The ghost of Tomita surrounds the opening keyboard sequence of 'Spent The Day In Bed', Morrissey's brand new single. You'll not find the jangly guitars (please move on). Instead, Morrissey surprisingly relies on Gustavo Manzur's synthesizer and simple, but evocative wording.
In the first take of Low in High School Morrissey favours apathy and the art of doing nothing (although the 'bed' fixation is likely an observation on depression). The current state of the world does not look promising and alienation prevails so the idea of getting up from bed and deal with ordinariness and the conventional rhythm of life is not appealing: "spent the day in bed / as the workers stayed enslaved". Morrissey once again brilliantly blends acute social commentary with a pop song. This time the language he uses to describe big ideas is straightforward and simple.
The pop melody sticks in your head and it is during the chorus that Moz goes against media manipulation and news organisations: "Stop watching the news! / because the news contrives to frighten you / to make you feel small and alone / to make you feel that your mind isn't your own".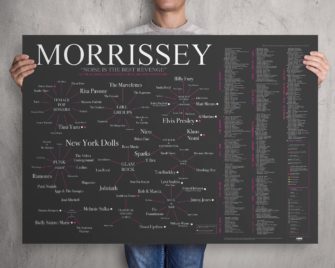 'Spent The Day In Bed' is a much better single than 'WPINOYB' and better than any other single from Years Of Refusal. A catchy pop song with Morrissey's witty observations on life and sarcastic humour (Who else can drop a line like "No emasculation / No castration" in a 3:30 min pop song?) Musically, this is a peculiar addition to his catalogue, but somehow, it is still very Morrissey-esque.
"Be good to yourself for once / And No Bus / No Boss /No Rain / No Train"
Spent the day in bed
Very happy I did, yes
I spent the day in bed
As the workers stay enslaved
I spent the day in bed
I'm not my type, but
I love my bed
And I recommend that you

Stop watching the news!
Because the news contrives to frighten you
To make you feel small and alone
To make you feel that your mind isn't your own

I spent the day in bed
It's a consolation
When all my dreams
Are perfectly legal
In sheets for which I paid
I am now laid
And I recommend to all of my friends that they

Stop watching the news!
Because the news contrives to frighten you
To make you feel small and alone
To make you feel that your mind isn't your own

Oh time, do as I wish
Time, do as I wish
Oh time, do as I wish
Time, do as I wish
Oh time, do as I wish
Time, do as I wish
Oh time, do as I wish
Do as I wish

I spent the day in bed
You can please yourself
But, I spent the day in bed
Pillows like pillars
Life ends in death
So, there's nothing wrong with
Being good to yourself
Be good to yourself for once!

And no bus, no boss, no rain, no train
No bus, no boss, no rain, no train
No bus, no boss, no rain, no train
No emasculation, no castration
No highway, freeway, motorway
No bus, no boss, no rain, no train
No bus, no boss, no rain, no train
No bus, no boss, no rain, no train
Comments
comments