Interview: Alejandro Monfort – Mexican Guitarist
The long music career of Alejandro Monfort represents the story of many. It exemplifies the hopes of those ones who are passionate about music since an early age and decide to take the risky step towards the unknown universe of rock music. This is the story of a Mexican guitarist obsessed with the Delta blues, rusty riffs and vintage chords. A musician in the process of reinvention and in the quest of finding enchanting soundscapes and alluring chord progressions.
What was the first reason for you to play guitar?
My parents are music fans and they both play guitar and piano, so I felt the curiosity to play an instrument from an early age. Initially, my dream was to become a pianist and when I was 9 years old I took piano lessons and I loved it. I didn't have a piano at home, so I would stay in the school after classes just to practice. After some time, my father got me an acoustic guitar as a Christmas present. I have to confess that I was a little disappointed, since all I wanted was a piano and I didn't know how to play guitar. Years later I understood that it was easier for my parents to buy a guitar than a piano – it was cheaper and didn't occupy as much space. They bought me a guitar, so I wouldn't lose interest in music. My mom taught me the basic chords and my father taught me all that he knew about classic guitar. Over the years, I fell in love with the instrument.
What's your story as a musician?
I always wanted to be a musician, but as you grow up everybody tells you how hard it's going to be, that you should have a real profession and that sort of thing, so for obvious reasons I hesitated. I started to play live when I was thirteen with my first rock band, Amnessia. We were all friends from school so we would study in the mornings, rehearse in the evenings and play at nights. With Amnessia I've toured all around Mexico, we made 3 records with singles that got national exposure in the radio, as well as rotation in important music TV channels such as Telehit.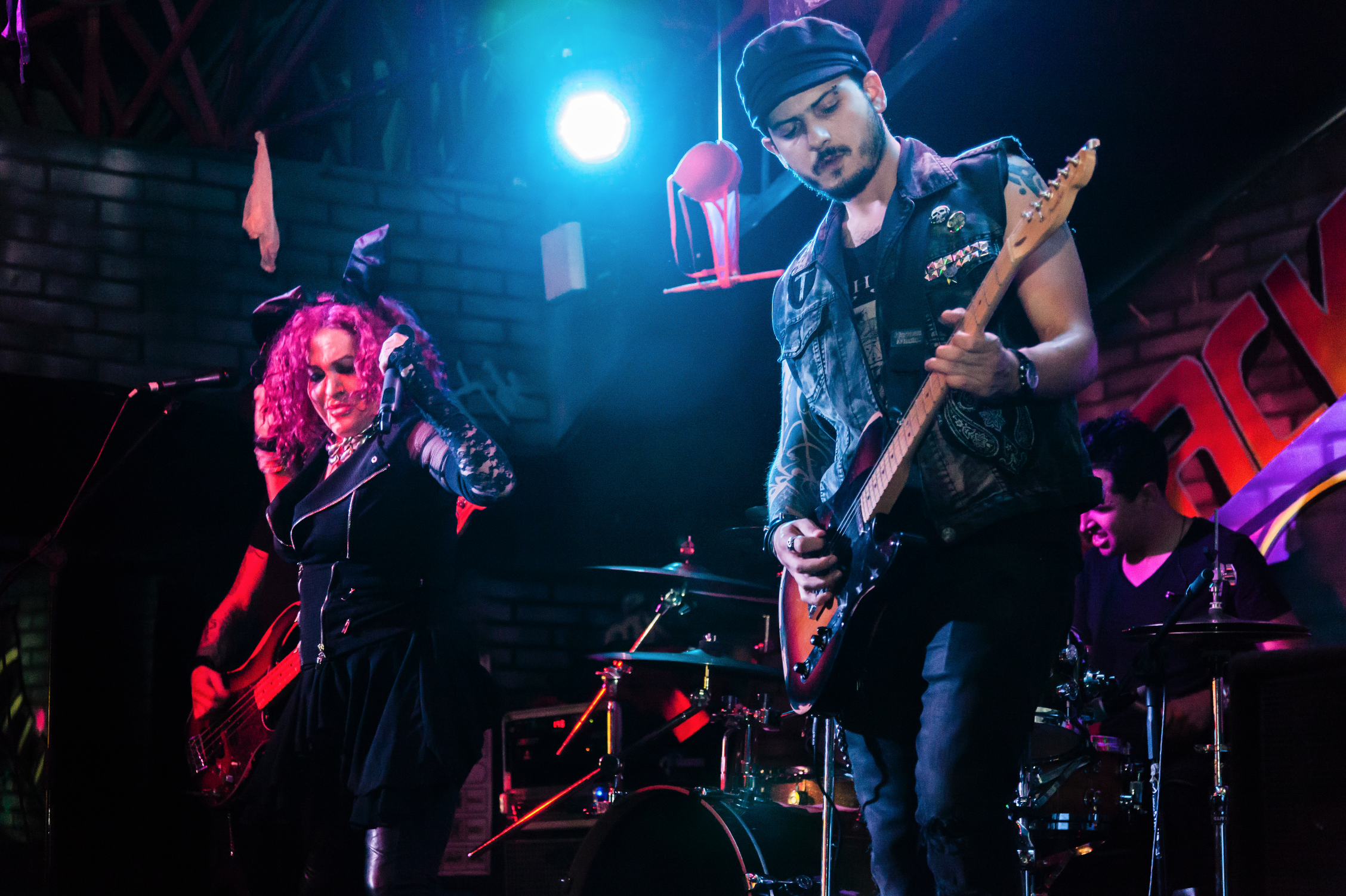 But because of my parents pressure I've ended up in college studying Computer Engineering Technology . A few months passed by and I couldn't stand it, but suddenly an opportunity came up. My former band Amnessia previously opened some shows for the Mexican rock band Kenny y Los Electricos and I had a good relationship with them so I was invited to join them for a USA tour, and without thinking about it twice, I've accepted and dropped out of college. At the moment I didn't realize that I had chosen my path. I became a musician and not an engineer and I will always be a musician.
What's the best thing you've created as a guitarist?
I am very proud of my work on the record "Con Tequila en la sangre" with "Kenny y Los Electricos" because it's a tribute to traditional Mexican Music. It was very complex to simplify the songs, since Mexican music has so many sound elements and step notes. We were looking for a natural sound, simplicity and a lot of feeling. Some of the songs on that record were recorded with a Vox amplifier that had Tremolo and since then, it has become a fundamental effect on my pedalboard. My favorite song from that record is 'Cucuru Cucú Paloma'.
What's your best skill as a guitarist?
I could say that my strongest skill as a guitar player has always been exploring sound possibilities. I spend long hours searching for new ways to sound better. I've always admired guitar players that with only one note can give you goosebumps like Buddy Guy.
What's your main weakness as a guitarist?
I have a limited memory, so I'm not one of those guitarists that know thousand songs or have super speed powers.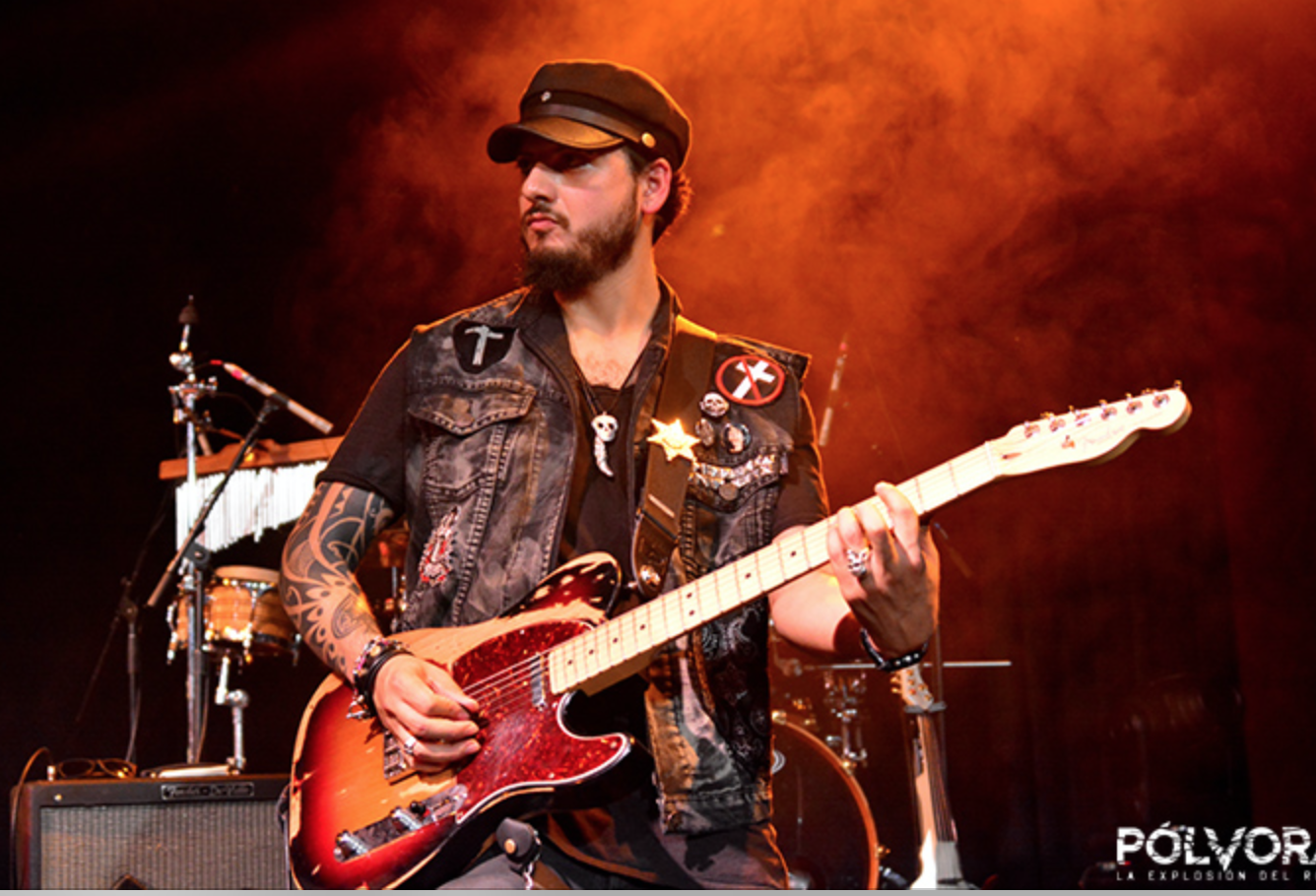 You've been playing constantly in Mexico and the USA. What are your fondest memories in front of a live audience?
I always enjoy seeing our live audiences in Mexico, always singing and dancing to our songs – they know the lyrics by heart. For them, seeing a live show is something that they had being waiting for and it's the moment where they can finally let themselves go through the power of music. However, I have a special feeling for our US audiences and the Mexican American community as they do not have access to all of our records and they cannot see us live so often. These shows are empowered by a nostalgic and very passionate crowd.
Name your top 5 guitarists.
I could name 15, but the first that come to mind are Keith Richards, Gary Moore, Stevie Ray Vaughan, Jimi Hendrix and David Gilmour.
What's your favourite guitar riff and why?
My favourite riff is George Thorogood's 'Bad to the Bone'. It's simple, grandiose and has a very characteristic style.
What's your favourite guitar solo and why?
'25 or 6 to 4′ by Chicago. I love the sound of that guitar with the wah wah pedal.
I know that blues is one of your favourite genres. From a guitarist point of view, why blues is so important in popular music?
I believe that Blues music has evolved and influenced popular music since Elvis and The Rolling Stones started playing blues songs and transforming them into rock 'n' roll, making them more accessible for people in general. It hasn't stopped ever since. For example Jimi Hendrix was a blues guitar player that changed the whole concept of playing electric guitar and influenced renowned guitarists like Eddie Van Halen, Angus Young or Joe Perry. You can see the evolution and influence of Blues around the world in bands like Scarecrow, a french band combining hip-hop and blues in a very refreshing way.
What about your fascination with Keith Richards as a guitarist and archetypal rock 'n' roll figure?
Keith Richards is a two-universe star; he's a bluesman and a rockstar. If you analize his technique you can see that he's a scholar of blues. One day when I was a kid, I read about his influences and that's when I discovered the music of Muddy Waters, Chuck Berry, Little Walter, Robert Johnson and I realized that it was a great school, so I started to study them. When Keith Richards plays guitar you can listen to his influences. He shows his creativity by doing complicated things with simple elements; they're so simple that he only plays with five strings and by using alternative tuning he manages to create entire songs with only two or three movements of his fingers. He's one of the greatest.
What are your next plans as a musician?
I want to keep making music and records and keep playing live as always. I'll keep searching for new sounds.
Comments
comments