Fat White Family @ Academy 2, Manchester [REVIEW]
★★★★★
27.02.16
Alejandro De Luna
Bed bugs. Illness. Disgust. Nastiness. Pornography. Vulgarity. Sex. Danger. Bargain-basements. Alcohol. Drugs. Violence. Atmospheric passages. Anger. Homelessness. Unpleaseant. Anxiety. Darkness. Depression. Screams. Mark E. Smith. Tinnitus. Tinfoil Disaster. Unemployment. Poverty. Bloodcurdling. Acid. Blades. Junk. Sick. Fear. Psychiatric hospital. Mosh pits. Viciousness. Combative. Racism. Grim warehouses. Blood. London. Intimidation. Decadence. Krautrock. Despair. Bipolar personalities. Gentrification. Bomb Disneyland. Unfriendly. Communism. Fascism. Punk. Rage. Nudity. Charles Manson. Crisis. Unwashed. Pigs. Hate. Pop fetishism. Cacophony. Chaos. Nightmares. Abuse. Autodestruction. Adolf Hitler. Misery. Leather. Iggy Pop. Heroin. Fashion wankers. Suicide. Politics. Filth. Rehab. Horror. Mess. Rotten. Antagonistic. Champagne Holocaust. Songs For Our Mothers. The Fall. Ugliness. Uncertainty. Cocaine. Speed. Guinness. The worst band in England. The best band in England.

These are some words and thoughts that come to mind when you are in the same room with Fat White Family, the sickest band in England. This could either be the worst gig you've ever seen or the best music event in years. The six-piece commune of low-lifes bring a terrifying and unconventional fest of repugnance and hate granted by some of the most inventive noise you'll hear in a long time. Lias – one of the best frontmans in recent years – is currently homeless and visibly exhausted. Saul, the lead guitar player and orchestrator of the band, just return from rehab. The rest of the gang also look ill, disgusted and disgraceful. It seems that any member could die on the stage at any time tonight and the band will still go on with their cocktail of noise that revisits the darkest corners of pop music. Fat White Family is a tempting formula for immediate disaster – certainly the most appealing side of rock 'n' roll.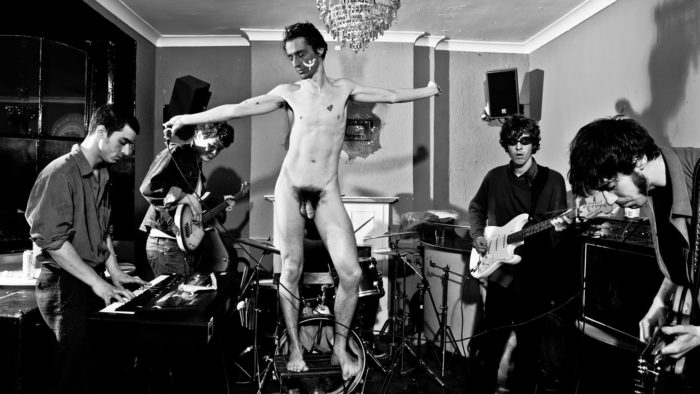 Due to the immediacy of the sound, ephemeral danger and antagonistic appeal, Fat White Family carries the risk of becoming a caricature of themselves. They carry the misfortune of losing the unpredictability and menace of their shows and that they become part of an over-exposed status quo. So what's next after releasing two of the best albums of the decade and throwing some of the sickest and most chaotic gigs in years? What's next for them? Would it be possible to mutate into an even more nauseous form of noise that will keep them radical, intriguing and sonically unhealthy? Think of other low-life precursors like Iggy & The Stooges, New York Dolls or The Germs. These kind of bands are not meant to last long – that's not their intention – but their legacy stays forever.
The drugs. The constant mental and physical decay. The abuse. The disgust towards a cracked society. The internal problems. The part self-inflicted choice to live in the border of danger and death is certainly appealing, but this is just for the most adventurous. Their mission is to make a confrontational statement; to alter the current fractured system and to attack the rotten music industry. Something that has been achieved by Fat White Family a long time ago. So what else to prove? If you have the chance to see Fat White Family do it before is too late.
SETLIST
Tinfoil Deathstar / Auto Neutron / Whitest Boy On The Beach / Is it Raining In Your Mouth? / I Am Mark E Smith / Heaven On Earth / Cream Of The Young / Satisfied / We Must Learn To Rise / Wild American Prairie / Garden Of The Numb / Touch The Leather / Goodbye Goebbels / Bomb Disneyland
Comments
comments