Flashback: The Beatles – White Album (1968)
Courtesy of Carsten Petersen – an unsweetened man
Boy, this one took me a long time! Busy times. Had to finish my master paper, find a job for the next few weeks/months/years, being lazy, drinking with good friends. But finally, my duty has caught up with me so here we go for another unnecessarily detailed analysis from your beloved reviewer.
This time it's gonna be The Beatles' White Album. Now, we know that those four Liverpool guys have basically released one historic record after another and revolutionized music each year. However, the White Album is not really mentioned that often as it usually pales in the eyes of most reviewers compared to earlier masterpieces such as Sgt. Pepper's Lonely Hearts Club Band, Revolver, Rubber Soul or even A Hard Day's Night. The reasons are obvious at first. Despite timeless tracks like 'Back in the U.S.S.R.', 'Helter Skelter', 'Happinness Is A Warm Gun' or 'While My Guitar Gently Weeps', this record hasn't really spawned any obvious hits in comparison to the full-blown anthems from the previous catalogue. Being a double album, it features a high number of obscure tracks that some never even heard of, and for sure it is a highly uneven record going in many different directions, sometimes all of them at once. It surely is the hardest Beatles album to get into and while most people enjoy these guys for their high listenability that doesn't usually require that much effort, it is easy to see, why the attitude towards this record is often schizophrenic at best.
The Beatles in India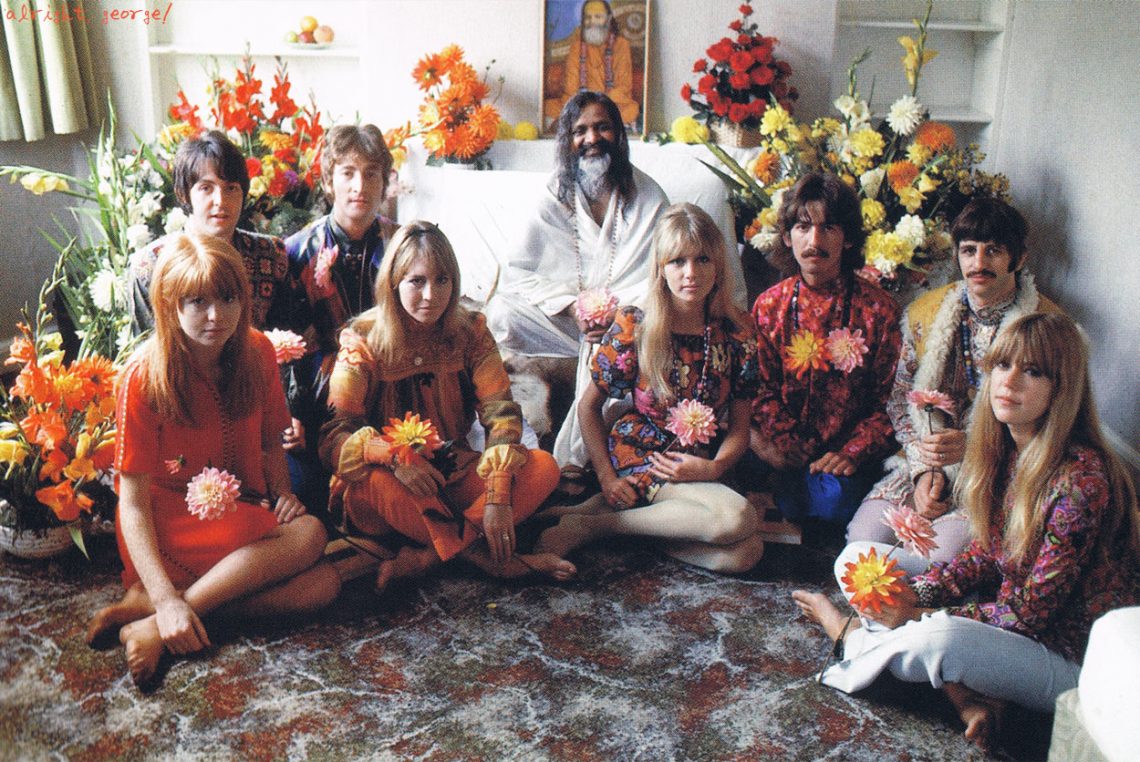 The reason for this record being such a mess is pretty much a result of the group's situation around that time. After Magical Mystery Tour and the whole Sgt. Pepper madness, the group grew slowly tired of fame and, more importantly, of each other. I guess, hanging around with each other for 8 years in a row on an almost 24 hour basis has its disadvantages. Adding to this was a trip to India, from which the four guys hoped to achieve spiritual enlightenment and a growing distance from work. What sounded pretty good back then in theory in the flower-power loving 60s pretty soon smashed on the ugly floor of reality. Ringo left after a few days because he hated the food, Paul lost interest altogether soon after and John Lennon found out that their spiritual leader, the Maharishi Mahesh Yogi, was much more interested in earthly things such as money and women, which kind of collided with the anti-materialist message that the bearded dude carried on his sleeve. Also, John, Paul and Ringo took their time to write songs that infuriated the spiritual George, who tried to hold on to the failing experiment as long as possible.
Together but not together
Back in the UK, the writing and recording sessions took their poll on the already burned out group. Being already sick of each other, each member isolated from others and even recorded their own songs by themselves as much as possible. Best example for this was Paul's 'Mother Natures Son'. Lennon, unfortunately, walked into Paul's session and, according to the engineer, the atmosphere was so unpleaseantly dense that you could 'cut the air with a knife'. Ringo got so tired of the sickening situation, he actually left the group like a week after the beginning of the recordings and only after long begging he was willing to return. At the end, this is the reason for the unusual sprawl of the White Album. John and Paul wrote separately more than with each other and brought all of their tracks to the table without accepting consideration from the group. So basically, we got solo Paul, Ringo, John and George more than a Beatles effort.
I need a fix 'cause I'm going down
Down to the bits that I left uptown
I need a fix 'cause I'm going down
A record with a chaotic and sprawling nature
I always liked the somehow chaotic and sprawling nature of a double album. While not every song is a gem, it gives you so much more to explore and the White Album really has the feel of a wrenched labyrinth with many twists and turns in which sometimes you can easily get lost. Many songs feature surprises that you did not expect from The Beatles and that only adds to the sense of adventure.
Second of all, I can't help but endorse the new sound compared to the previous records. The Magical Mystery drug-induced, psychedelia drenched sound already borderlined on sounding cliched and entirely overdone – like putting an extra pound of white and brown sugar on an already overcoated cake. The White Album returns to a more basic sound, full of quirky sounds, dreamy melodies and bitterness. Furthermore, the sound of the record often features a hard to decipher mystic feel, particularly in 'Mother Nature's Son', 'Cry Baby Cry' or the coda of 'Long, Long, Long'. This leads to a hard to describe atmosphere of isolation and loneliness which really adds to the aforementioned labyrinth feel of the record. This is not a happy group, but individuals sitting lost in their own world. What didn't really appeal to me at first listen, has grown on me more and more and this basically lead to this being my second favorite Beatles album right after Abbey Road.
The Songs
Enough of the introductory nonsense, let's move onto the real meat. The opening 2-3 punch of the record couldn't be better. 'Back in the U.S.S.R.' opens the album on a fast, funny and rocking note, with sarcastic references to the former communist empire, crafted also as a parody or tribute to The Beach Boys sound. The song then fades into the beautiful 'Dear Prudence', easily the most beautiful track ever recorded by the Fab Four. Built on a wonderful guitar line, the track establishes a beautiful atmosphere while slowly building to a more rocking form. On 'Glass Onion', John's lyrics are really the star making fun of all the additional interpretations that fans of the group have put into their songs over the years. Pretty much throwing all the hype away and shouting 'let's focus on the here and now!'. Moving on, the infamous 'Ob-La-Di Ob-La-Da' has never been a favourite of mine but its overly silliness has still become somewhat addictive. All in all, it is pretty clear from the start that the group sent a goodbye to full-blown psychedelia.
The middle part of the record features more highlights, each of them completely different from what came before. 'While My Guitar Gently Weeps' features a wonderfully sad feeling with some great Clapton solos, 'Martha My Dear' is a charming piano ballad dedicated to Paul's dog and 'The Continuing Story Of Bungalow Bill' is just a silly nursery rhyme. Another great row of songs comes in the shape of 'Blackbird', 'Piggies' and 'Rocky Raccoon'. The first one is a quiet, almost whispering acoustic song by Paul, the second one being a political satire by George and the latter a great mini-story by Paul set in the soundscapes of the folky Old West.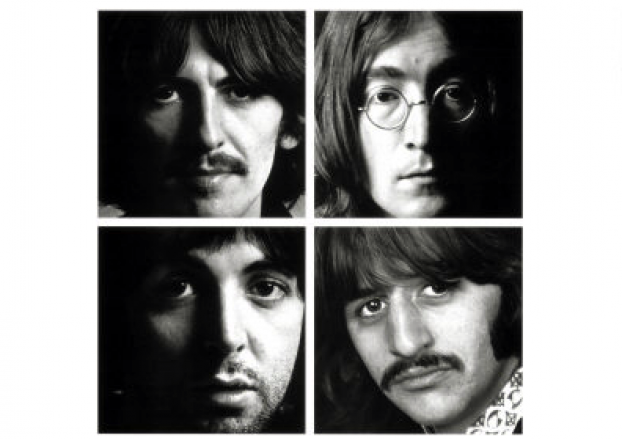 Going down into the tracklist it comes the quietest song of the album,
George's
'Long, Long, Long', an almost whispering track with a spooky coda waiting to be heard. Even better though is the 3-song finale of this album. 'Cry Baby Cry' features some outright dark and dreamy background music with
John
mumbling lyrics and slowly fading into 'Revolution No. 9'.
If 'Cry Baby Cry' is the state of slowly drifting into sleep and letting go of reality piece by piece, 'Revolution No. 9' is the nightmare that follows. The track is nothing more than a bunch of quirky sound effects, screams and samples overlapped with a disturbing feel. The closure is the sweet and melancholic lullaby of 'Good Night', and while is not a classic by itself, it comes off great as the comforting lullaby after a nightmare-ridden sleep and adds up to the sense of isolation and uncertainty prior to The Beatles' divorce.
This is a record that will provide a completely different and more confusing experience compared to other Bealtes records but that's the charm of the White Album. The Beatles don't even try to pretend that they are still the group of the Sgt. Pepper era, they basically tell you to get over it and present their current nature of uncertainty, isolation and trouble. It is a strange and somehow dreamy, unreal record that has nothing to do with what they did before. If you don't like it at first, which is what I did, do yourself a favour and give it some time. If it grows on you, it will become one of the more rewarding experiences provided by the still Fab Four.
Comments
comments