Chelsea Wolfe @Gorilla, Manchester (Live Review)
Alejandro De Luna
18.04.17
There's an enigmatic aura surrounding Chelsea Wolfe. She looks like she sounds: enigmatic, obscure, otherworldly and funereal. Her current show demands attention while she takes the audience through a bleak view of the world adorned by barricades of drone, doom metal and industrial soundscapes that at times suffocates Chelsea Wolfe's ghostly singing voice and sinister folk.
Back in 2013 I had the opportunity to interview Chelsea Wolfe for a Mexican music magazine. I remember that she sounded distant on the phone and reserved when asked about the sound of Pain Is Beauty (2013), but she mentioned that she sees music as a tool to reflect and overcome suffering and periods of darkness. Moreover, Chelsea Wolfe affirmed that besides being influenced by an eclectic collection of recorded noise, she also absorbs wisdom and inspiration from literature and films (by that time she mentioned Lars von Trier and John Waters as key figures). With Abyss (2015), her latest studio album, the Californian songwriter takes this approach of using music as a healing method for pain and struggle to a higher and darker level. Chelsea Wolfe's bleeding lyricism and grim apocalyptic soundscapes on stage go from the introspective ('Simple Death' and the Portishead-like 'After the Fall') to the industrial bliss ('Carrion Flowers').
The opening track at Manchester's gig is 'Feral Love' from Pain Is Beauty, one of her best songs with reminiscences to The Cure's 'A Forest', and the Pornography period. But Chelsea Wolfe seems to be one of those artists that focus on the present and the future rather than revisiting the old catalogue; 'We Hit The Wall' from the same album and 'Pale On Pale' (Apokalypsis, 2011) are the only songs from previous efforts that make it to the setlist. Instead, she takes Abyss, her bleakest cut to date, and a couple of new songs ('The Culling' / 'Static Hum') to symbolize anguish and beauty in pain.
The gig lasts just 70 minutes and 'Survive' brings out the best of Chelsea Wolfe; a sinister riff, haunting vocals and a thick and dark atmosphere surrounding the song until it erupts fiercely thanks to the fascinating female drummer. The drums keep pounding violently and Chelsea Wolfe leaves the stage quietly and enigmatic as when she first appeared on stage.
Chelsea Wolfe epitomizes a deeply personal music style that has been segregated from the masses but it's within these isolated corners where the self-inflicted exile of the Californian artist transcends beautifully. Besides her solid catalogue of gloom, the merit of Chelsea Wolfe relies on her ability to reinvent herself from album to album. The gothic, doom metal, industrial and folk references when describing her sound are common ground, but she has developed a distinct style far beyond stereotypes, taking personal struggles and world observations to connect with others.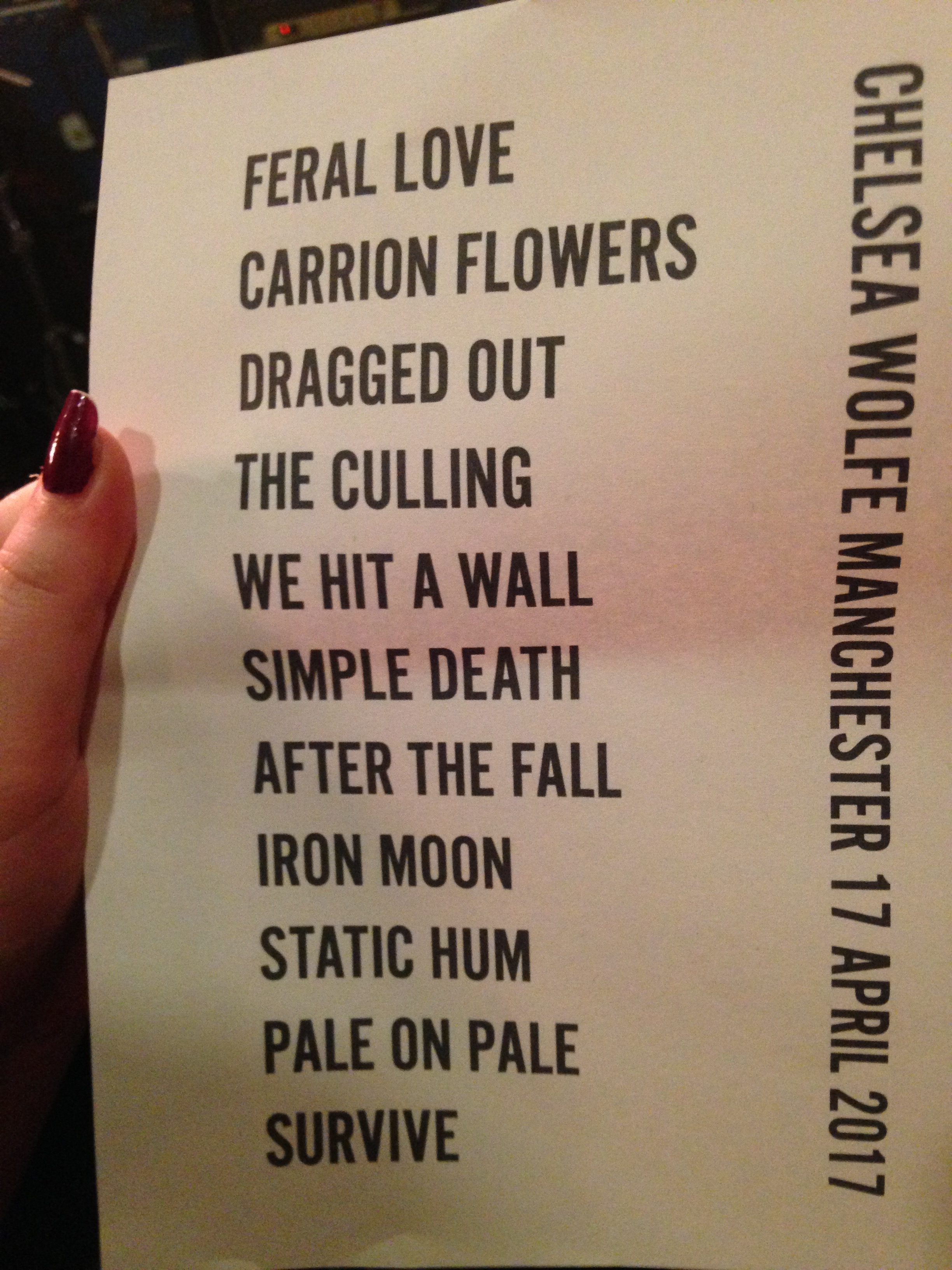 Comments
comments